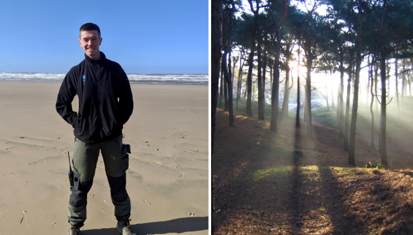 National Trust Ranger, Chris Hunter
The National Trust in Formby recently teamed up with Alzheimer's Society Sefton to run their very first dementia friendly walk and talk event for a group of people living with dementia and their friends and family.
National Trust staff, including Ranger Chris Hunter, who led the walk, attended a Dementia Friends Session prior to the event to learn more about dementia and what it might be like to live with the condition. This helped them tailor the event to ensure it was engaging and interesting for people living with dementia.
Ranger Chris took the group on a walk around the pinewoods, stopping at various points to talk about interesting features and giving information about the history of the site and its famous red squirrels.
One of the walkers said: "It was lovely for my husband, it was long enough to work up a little sweat, but not too long that he was exhausted, so a perfect length. The path was a little uneven, but we managed, and the concentration was good for my husband.
"Chris spoke well, and he was careful to repeat facts. My husband often asks me to repeat things, but not on the walk. He did hear a lot of the details and told me about a few things in the car on the way home. So, our vote goes to a perfect afternoon. Thank you."
Linda Lawson, Information Worker for Alzheimer's Society said: "The walk and talk event was a great success and we are hoping to work with the National Trust again to offer more activities like this in the future.
"We know that keeping active and involved in their community enables people to live well with dementia and it could help slow down the progression of this disease.
"We are delighted that this pilot event went so well and hope to do more of the same in the coming months, as well as supporting the local National Trust in their work."