Champion Russell Jenness shares his story:

I'm Russell Jenness and I work for Go South Coast who run local bus services across the South Coast from the Isle of Wight and up as far as Swindon. People living with dementia consistently rate transport as being incredibly important in their lives. Buses in particular are a lifeline for people to remain independent and connected with friends, families and communities. I am immensely proud to run Dementia Friends Information Sessions for our bus drivers.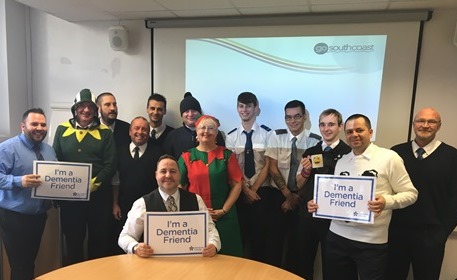 I was first introduced to Dementia Friends through a voluntary scheme when I was a bus driver on the Isle of Wight. When I took on a training role, I saw it as the perfect opportunity to become Dementia Friends Champion and incorporate the Information Session into our courses. With so many older customers travelling on our buses I felt it essential to give all of our 1,450 drivers an understanding of what to look out for and how they could help.

The effect has been amazing! I have been so surprised how emotional our drivers find the Session. During the bookcase analogy I have had even the most "tough nut" drivers in tears. In nearly every Session we run, we learn from a colleague who knows someone who is living with dementia. 
Just last week I was stopped by a colleague on his bus to tell me how a female customer on his bus was upset, lost and confused. He said he recognised the signs straight away, that she may be living with dementia. He said it was since becoming a Dementia Friend that he was able to recognise her needs. He took her back to our bus station where we were able to reunite her with her family. Her family nominated him for our 'Employee of the Month Scheme' which he went on to win. He thanked me with tears in his eyes for making this possible.   
I feel very fortunate to be involved as a Dementia Friends Champion and I look forward every week to my next Session. We receive regular positive comments from our drivers and colleagues who all wear their Dementia Friend badges with pride.   
At South Coast we are very proud to have created over 570 Dementia Friends, through the Sessions I run and we are working to increase this week on week.