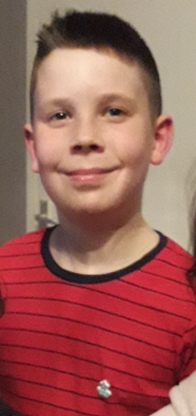 10 year old Leon Gallagher has grown up with an understanding of dementia. Leon's grandad Paul was diagnosed with Alzheimer's when Leon was 2 years old - his grandad was just 54.
Dementia Friends Champion Lynn Bonnar is also a Dementia Support Worker and provided support to Paul. Lynn got to know Leon too and it was clear Leon had a real interest in understanding the condition that his grandad is living with. And unfortunately they had first-hand experience of the stigma and misunderstanding that exists around dementia, as Lynn tells us:
'Early this year, while I was working as his grandads support worker, we were involved in a very unpleasant incident where a lady referred to Paul as "stupid" and "an idiot". Leon was obviously very distressed by the incident.'
Following the incident, Leon asked Lynn about the possibility of delivering some Dementia Friends Information Sessions at his school, Westlea Primary School in Seaham. Lynn had offered Sessions to the school before without success, but Leon was determined to make it happen.
'Leon asked if I could give him a letter to take to school. He said he would take it to his head teacher and explain why he thought everyone should be a Dementia Friend. Leon did exactly that … he explained that he felt that everyone should know about dementia to prevent incidents happening like what had happened to his grandad.'
'A few days later I received a phone call from the school inviting me along to deliver a Dementia Friends Session to the year 6 pupils.'
As a result of Leon's actions, Lynn and fellow Champion Gill went along to the school and made 33 new Dementia Friends. And Leon also received a special award from the head teacher for his consideration and understanding of others.
'I think this shows the huge influence that can be gained by a child explaining their views and reasoning for wanting more knowledge on something.'