#TeamDementiaFriends is our new campaign to get football clubs on board with Dementia Friends.

By mobilising together we can help make sure that people living with dementia can continue to do the things they love, like supporting their favourite football team! That's why we want every professional club  to run a Dementia Friends Session for their staff before the end of the football season.

We're also calling on football fans to show their support by becoming a Dementia Friend too!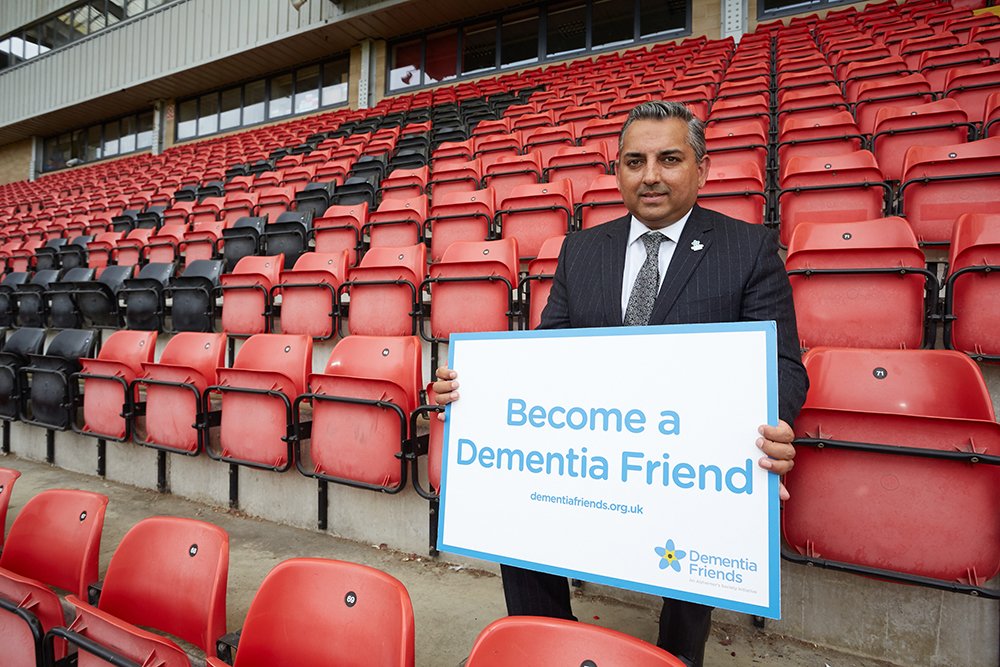 In the first campaign of its kind, Alzheimer's Society is working to ensure football clubs are places where people with dementia and their carers feel understood and included and to tackle the social isolation the charity knows often follows a dementia diagnosis
Alzheimer's Society's Dementia Friends programme is the biggest ever initiative to change people's perceptions of dementia. It aims to transform the way the nation thinks, acts and talks about the condition so that people can feel involved and included in their communities and continue doing the things they love. 
Dementia Friends Information Sessions will be delivered to match-day staff and stewards at clubs nationwide so they understand what it's like to live with dementia and the small ways they can help people on match day. 

Speaking about the new campaign, Alzheimer's Society Head of Policy George McNamara said:
'Life doesn't have to end when dementia begins and people living with the condition should be able to continue doing the things they want to do, like supporting their football club, after a diagnosis.
'Football clubs, which are right at the heart of our communities, can make a real difference to the lives of fans affected by dementia by helping staff and fellow supporters become Dementia Friends.'
There are 1.7 million Dementia Friends and Alzheimer's Society wants to reach four million people by 2020. Clubs across the nation, such as League Two outfit Leyton Orient, are showing their support for people by staging Dementia Friends sessions.
The family of England's 1966 World Cup hero Ray Wilson, who played for Everton and Huddersfield, and is living with Alzheimer's disease, is backing the Dementia Friends Football campaign. 
Speaking about the campaign, Ray's wife Pat said:
'Ray might be living with dementia but he still really loves going to watch football matches because the game is in his blood.
'He goes to Huddersfield games with our son, and like most fans he'll kick and head every ball and make every tackle in his mind because he's so passionate.
'Sometimes we noticed fans sat around him were a bit taken aback by some of the things he says and his actions, but the more aware of his dementia they've become the more understanding they've been which is really nice and comforting for the whole family.'
There are 850,000 people living in the UK with dementia which affects many household names like Ray and fellow World Cup winners Martin Peters and Nobby Stiles as well as many footballers who made their name during the 1970s such as former England international Stan Bowles.
Not yet a Dementia Friend?
Become a Dementia Friend today and tell us which club you support when you sign up.
Sign up now
Already a Dementia Friend?
You can help by sharing on social media and asking the team you support to get behind the campaign.
Here's a suggestion of what you can post on Twitter, Facebook and other social media channels:
I'm on #TeamDementiaFriends to help make professional football more dementia-friendly. Get involved: http://ow.ly/LdgZ303zY7S