Today we're sharing this inspiring story of how on-call firefighters Steve Faircloth and Jonathon Vincent won a Special Performance Recognition Award from Essex County Fire and Rescue Service for their help in bringing a man living with dementia to safety.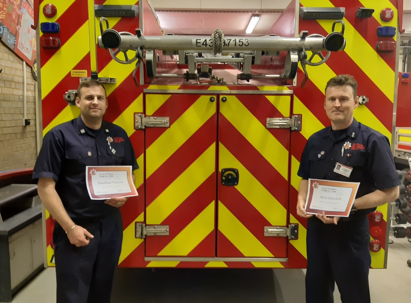 Steve and Jon who are based at Burnham-on-Crouch Fire Station, were travelling to a training exercise when they noticed an elderly man walking along a busy road. Concerned for his welfare they stopped to offer assistance, and upon chatting to the man, felt that he might be showing symptoms of dementia and require some additional support.
Using the knowledge from their Dementia Friends Session, which had given them insight into dementia and how to best engage with people living with the condition - they were able to recognise the mans need for support, and communicate with him in an appropriate and supportive way, gently gaining his trust and then using the Herbert Protocol which helps find vulnerable people who are at risk of going missing.
Station Manager Karen Nicoll said: "The actions of Steve and Jon demonstrated how they both put their knowledge as Dementia Friends into action, with the best possible outcome.
The man living with dementia, was confused and unsafe wandering out on his own, with cars passing at high speed and the actions of Steve and Jon in a Covid safe manner prevented a possible accident and led to a safe outcome." 
Thank you to Burnham-on-Crouch Fire Station for sharing this brilliant story.
"The incident absolutely highlights the importance and the benefits of being a Dementia Friend." - Paul Pemberton, Inclusion and Partnership Manager at Essex County Fire and Rescue
Read the original article here.