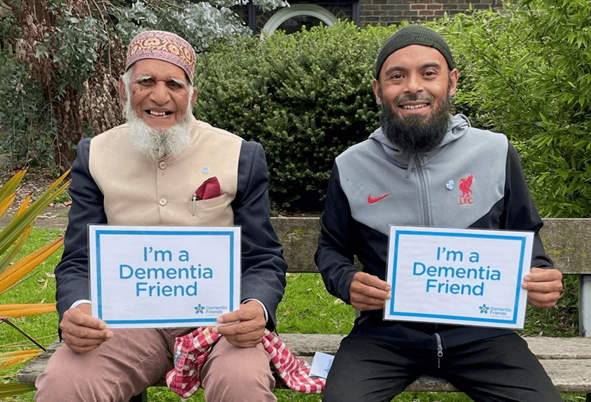 101-year old Dabirul Choudhury OBE is the UK's oldest Dementia Friend – and he is continuing to make a difference for people living with dementia after appearing on Good Morning Britain for the 1 Million Minutes campaign, inspiring the nation to pledge time to help others.
Dementia Friends was once again a part of Good Morning Britain's 1 Million Minutes this winter. The campaign asks people to pledge time, not money, to help combat loneliness. Too many people living with dementia experience social isolation, so during December we asked people to pledge just 60 minutes to become a Dementia Friend and continue to raise awareness.
The campaign saw another successful year for Dementia Friends, with 24,000 minutes pledged. This means 400 new Dementia Friends have signed up to understand more about dementia and help raise awareness.
Many of these new Dementia Friends were inspired after watching Dabirul appear on Good Morning Britain to speak about the initiative. He said: "If I make a habit of helping people, I feel pleasure. If I don't help somebody, I feel poor in my mind. It is my ambition to help people all over the world."
Whilst Dabirul was on the show, the 1 Million Minutes campaign broke the record for the number of minutes pledged. In just five minutes, Dabirul inspired people to pledge 4 million minutes to help others. Speaking to the nation, he said: "Thank you, from the bottom of my heart."
1 Million Minutes campaign saw a total of 166 million minutes pledged in total in December, beating the previous year's total by 79 million.
Feeling inspired? You can still make a difference like Dabirul by becoming a Dementia Friend.