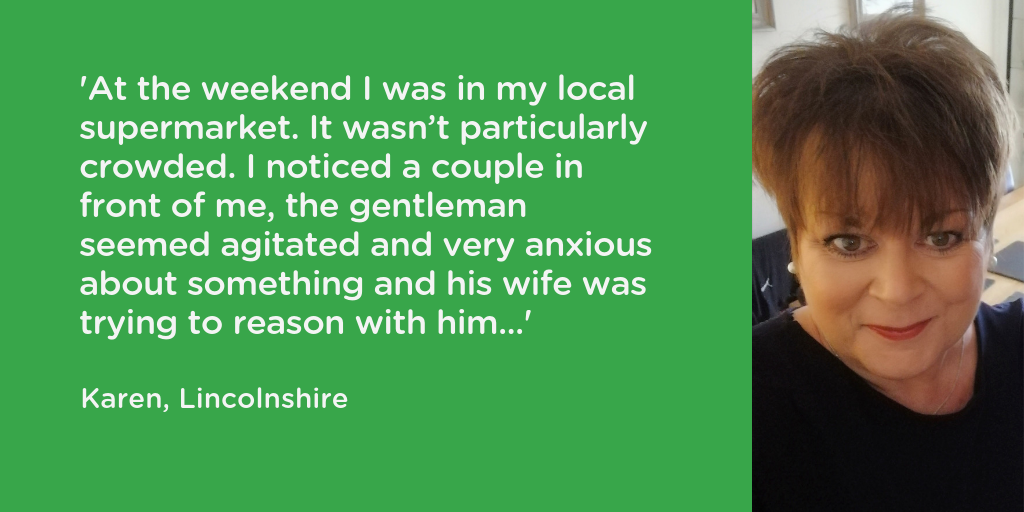 Karen from Lincolnshire became a Dementia Friend at work and then just three days later encountered a couple in the supermarket who looked like they needed a bit of help. Karen tells us the story:
'At the weekend I was in my local supermarket. It wasn't particularly crowded. I noticed a couple in front of me, the gentleman seemed agitated and very anxious about something and his wife was trying to reason with him. She wasn't having much luck.
There was music playing loudly over the PA system. I recognised the song, it was one of Robbie Williams covers of a Frank Sinatra number. As I approached the couple I could hear the man repeating, "It's wrong- he's singing it wrong."
His wife looked at me, a look of exasperation in her eyes, and told me he had dementia, I remembered this can sometimes confuse the memories but still leave the emotions associated with that memory intact. 
I explained this to her, and we both realised he thought it was Sinatra singing, not Robbie Williams! Apparently he was a Sinatra fan of some years.
I spent five minutes helping her to explain this to her husband, and I even ended up singing it with him! Once he understood that it was a re-recording of a song they used to dance to together, his anxiety seemed to subside. The thanks I received from the gentleman's wife made me feel very honoured, and so very grateful for the Dementia Friends Session I had attended that enabled me to assist a couple doing something we all take for granted, a walk around the supermarket, doing a spot of shopping...'