As part of Volunteers Week 2019, today we're celebrating the #PowerOfYouth because young people aren't just the leaders of tomorrow. They are changing society for the better today. There's no better example of this than Rachel Williams, one of our amazing young Dementia Friends Champions!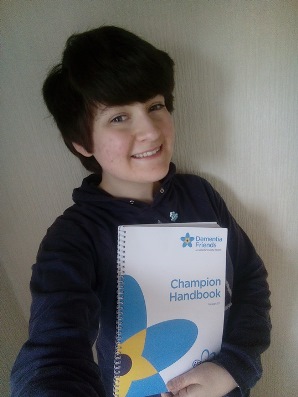 A psychology student at the University of York, Rachel decided to become a Dementia Friends Champion after she heard that Minds In Motion (a charity run by students at University of York which helps support those living with dementia, primarily those in care homes) was looking for a Champion to be on their committee.
Rachel says 'the idea was to run Information Sessions on campus partially for new volunteers so that they could learn a bit more about dementia and how to support those living with it, but the Sessions were also open to anyone on campus.'
Having worked with Minds In Motion as a Dementia Friends Champion for a year now, Rachel has run a bunch of Sessions for students and they've been a great success!
She continues, 'I've made lots of new Dementia Friends and the sessions have also gathered a lot more attention and interest for Minds In Motion, so they have lots of new volunteers too! It has been incredibly rewarding to be able to spread awareness about dementia to an audience that may not have as great an understanding of it, as well as help out a charity to do more great work in the local community.
Asked about her most memorable Sessions, Rachel recalls a particularly daunting Session that she arranged for a group of local county council employees:
'I was incredibly nervous. After all, I had hardly ever been in an office environment before, let alone speak in a somewhat professional capacity in front of people who were much more experienced (and for the most part, older) than me. Nevertheless, the session went really well. Everyone was really friendly and welcoming, so once I got going, I forgot about my age and just had a good time chatting with everyone about their thoughts and experience.'
Rachel has also run some big Sessions for students, including one with over thirty attendees. But her advice for any other young people considering becoming a Champion is 'don't be overwhelmed with the prospect of organising lots of big Sessions. It can be just as effective to grab some friends and put aside an hour to run through the Session. My first Session was just with my mum! Start small, in familiar locations, then as your confidence grows, you can consider approaching other groups and organisations to see if they would be interested in hosting an Information Session.'
Rachel continues, 'The great thing about this role is that you can be very flexible about when and where you run sessions, so if you're looking for some volunteering that can fit around a more unpredictable schedule, this would be a good choice! It certainly works for me, and I look forward to running lots more sessions in the future!'
If you're interested in joining Rachel and our team of Champions, find our more here.