Our amazing volunteer Dementia Friends Champions are out there delivering Dementia Friends Sessions, raising awareness of dementia and inspiring action.
Heather Hooper's commitment to doing all this and so much more was recognised recently at Alzheimer's Society People Awards where she won the 'We Are United' award. The awards took place at St James's Palace in the company of our Royal patron Her Royal Highness Princess Alexandra. This is Heather's story.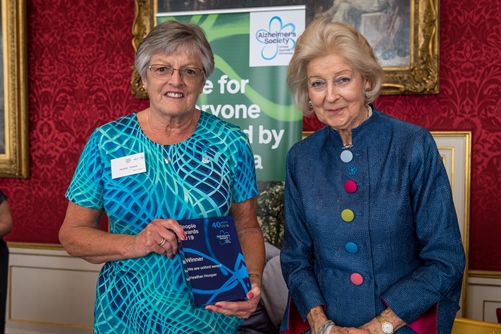 When Heather's mother passed away, aged 86 after living with dementia for eight years, she was determined to turn her experience into something positive.
'I cared for my mum who lived with dementia for eight years. During that time I witnessed the lack of understanding people had around the condition and how a little education would go a long way.' said Heather.
Five months after her mum's death she became a Dementia Friend and then a Dementia Friends Champion, pledging to help more people understand what it is like for someone living with dementia.
'I had witnessed families and friends struggle to understand what was happening to their loved ones and recognised that with a little knowledge they may be better equipped to understand and cope, I recognised a need for educating and supporting.'
Heather runs Dementia Friends Information Sessions in schools, businesses and community groups. In addition she visits Peterborough City Hospital once a month to deliver awareness talks to Healthcare Assistants and widely promotes services available at the City's Dementia Resource Centre. In the past three years she has helped more than 600 people become Dementia Friends!
And Heather doesn't just stop at delivering Information Sessions. She is extremely persuasive in recruiting other volunteers from diverse areas, including younger volunteers from the BAME community. Heather's skill in communicating has led to giving talks about her experiences with dementia, tips on caring for someone living with dementia plus the services offered at the Dementia Resource Centre.
And, as Heather says, the actions that people can take to help people affected by dementia can be so simple. Heather cites the example of a woman with dementia confronted by a black mat on a shopping trip.
'Shops have a black matting in front to wipe your feet but perception can be affected by dementia,' she said. 'A black mat in a shop could be seen as a hole. That lady sees a hole. What can we do? What we can do is take the mat away, allowing the lady to do her shopping so her self-esteem is up. This is an example of how we can support someone to 'live well with dementia.'
'My favourite saying is, 'go with the flow.' Reasoning and understanding can go with dementia. Just be aware there may be a reason why people are looking confused or taking their time using their money. Don't make assumptions.'
'The work I do is in Mum's memory. We walked the path together and together, through this experience, we can help others.'