Champion Mary Brown has joined forces with Arthur, who is living with dementia, to deliver Information Sessions for NHS staff. Mary tells us more: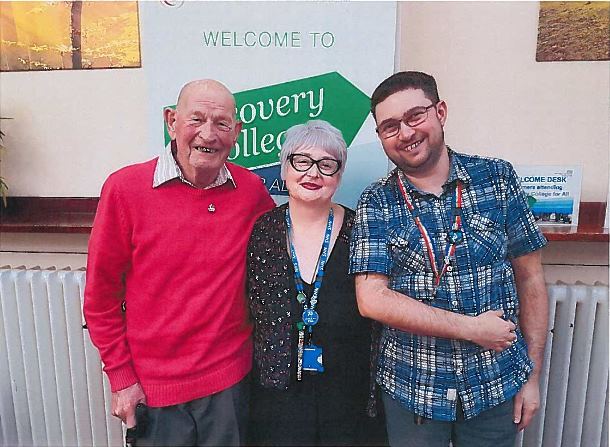 'A few years ago I met Arthur at a group for people who had recently had a diagnosis of dementia. Arthur had been diagnosed with mixed vascular and Alzheimer's and he admitted in this group that he had struggled with coming to terms with this diagnosis.
'Arthur had always been a vital, independent chap and at the time was worried that his life would change because of the diagnosis. He had been in the Navy for some years, he had travelled the world. 
'The group helped Arthur come to terms with his diagnosis and potential changes he would have to make. Arthur adamantly refused to give up and together with his wife Judy worked out strategies at home such as memory aids which helped him remain as independent as possible in his chosen roles and tasks.  
"It was apparent that Arthur was very supportive of others in this group; he tried to help those who were having problems seeing the light at the end of the tunnel."
'He then became involved with Dementia Friends with my colleague Alex and me. We run sessions at the recovery college in our NHS trust and after the sessions, Arthur would tell his story, 'I'm not dead yet'.
'Arthur then expressed interest in becoming a Dementia Friends Champion. We supported him with the training and with help from our Dementia Friends Officer, we worked out systems in which Arthur could become a Champion.
Arthur said:
"I can give my case over more readily through becoming a Dementia Friends Champion"
Delivering Sessions together
'Arthur really enjoys working within the NHS. He says that if he can change one person's mind about dementia in a Session, then his job is done. For him, being involved in this was is good for his dementia; it keeps him going
"Alex and I feel that we have learned so much from Arthur as have people who have attended the Sessions; Arthur always receives so much praise following these from participants."
'We all feel we have built up a supportive working relationship. We support each other and together feel we make up a very effective whole. We all have different skills and empower each other. The three perspectives of clinical skills, empowerment and personal experience complement each other.
'We all feel that people at our Sessions like the dynamic between us all. Arthur sharing his personal experience makes everything real. He demonstrates the reality of living well with dementia.'
"We've clicked as a friendship. We respect each other" – Arthur