Gina Awad has run hundreds of Dementia Friends Info Sessions but non more unique than in the close-quarters of a Vietnam sleeper train. How did the Session come about? Gina shares her story:
'I am passionate about raising dementia awareness in my community and anywhere else that an opportunity may arise. Last month was no exception.
'I was going on a two-week trip across Vietnam with a friend, a few days before I was preparing my backpack and thought 'I wonder if my group of travelling companions who we were yet to meet may be interested in learning more about dementia?' At this point I had no idea of who would be on our trip and from where, I just knew there were thirteen others who would be accompanying us on the trip from North to South Vietnam. With these thoughts in my mind I packed a few Dementia Friends resources.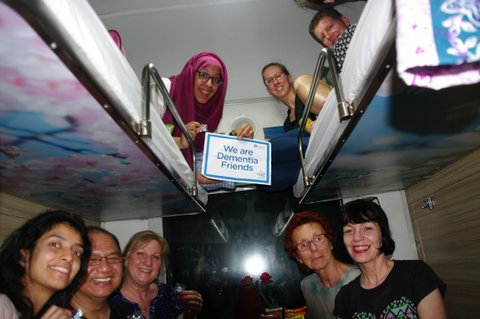 'On arrival in Hanoi we met our fellow travellers. There were fifteen of us in total from mixed backgrounds and cultures, which was a joy. During the first few days I had an affinity with one lovely lady, Fiona from Peterborough. During our conversations I shared my passion for raising awareness of dementia and we talked about Dementia Friends, the trail blazing national initiative spearheaded by the Alzheimer's Society. It got us chatting about dementia and Fiona's past experience of working with a client whose family member was living with dementia. We talked about the language used around dementia and the impact of words and how they really do matter.
'As a result of our conversations I shared my idea about delivering a Dementia Friends session to our group. Fiona thought it was a great plan and definitely worth offering, knowing of course that everyone was on holiday and it might not appeal. Part of our trip involved an overnight journey on a sleeper train between Hanoi and Vue, I felt that would be the perfect opportunity as we would all be together although split in cabins of four.
'I approached the group about it, hoping for six in total to cram into the four bedded sleeper train. I was delighted when eleven were keen to learn more about dementia! And what fun it was cramming us all in at 9pm that evening in a sleeper train cabin in the middle of Vietnam, South East Asia!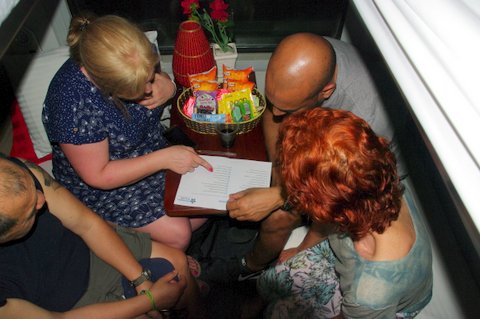 'We talked honestly and openly about dementia and people shared from the heart. Everyone agreed how much more informed they were about dementia having learnt about the five key messages through the broken sentences activity and Who's Right.
'What was truly brilliant was reaching eleven fellow travellers across five nationalities (though of course I only logged the participants from England and Wales!) 
'Dementia Friends really can reach people anywhere!'
If you would like to find out more about other countries that have a Dementia Friends programme and the Global Dementia Friends network click here.