You may just recognise Gina – she was Dementia Friends Champion of the year in 2016 and was more recently featured on our website after holding an Info Session on a Vietnam sleeper train!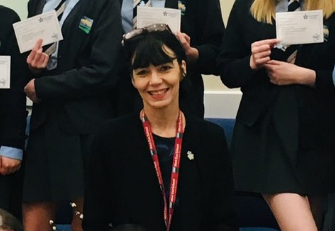 Gina has so far delivered 139 Dementia Friends sessions and has recently hit an amazing milestone - 2000 Dementia Friends! Gina surpassed the 2000 mark making 75 8-11 year old Dementia Friends in one day. From delivering a Session on a mountain resort on the Great Wall of China (!) to interviewing over 40 guests for her voluntary radio show, Gina is inspiring the world to become more dementia-friendly, with a view to enlighten people about what dementia is, and that one size doesn't fit all when it comes to dementia care.

During her childhood, Gina had often visited care homes with her Grandma, who used to facilitate creative arts sessions with residents. She remembers, even as a young girl, being aware that people with dementia could appear isolated and vulnerable. Inspired by past experiences and her Health and Social Care degree where she discovered Dementia Friends as part of her research, Gina became a Dementia Friends Champion and set up the Exeter Dementia Action Alliance.

Gina is truly spreading the word all over the globe. "I have delivered sessions in yoga retreats, schools, banks, GP surgeries, local cinema, Beijing airport, a mountain resort on the Great Wall of China, a sleeper train in Vietnam, care homes, council offices". 

Passionate about spreading the word and getting people talking about dementia however she can, Gina also has a voluntary radio show called Living Better with Dementia. "Over the past 4 years I have interviewed over 40 guests; from people living with dementia to carers, lawyers, care home managers, campaigners and more!" 

Continuing her incredible work, Gina has a British empire medal for her voluntary services for people with dementia, won Dementia Friends Champion of the year 2016, and this year was a Community engagement award winner in the Outstanding Care Awards for Devon & Cornwall – fantastic!

"I've also inspired a number of people to train as Dementia Friends Champions. I identify very much with the vulnerability of people living with dementia, their families and the hugely complex challenges they face."

Gina says Dementia Friends is a fantastic way to engage people to take action. "Where possible I want to enlighten people about what dementia is and isn't, that one size doesn't fit all, and that with a compassionate approach, we can move mountains." - we couldn't agree more!

Gina's top tips for Champions:

1. Remind yourself you're doing a great thing as a volunteer Champion as part of the biggest social action movement of this century. Whatever you contribute is making a big difference. 

2. It's not all about reaching big numbers in your Dementia Friends Sessions - small groups work so well. Don't underestimate the term 'less is more' sometimes it really is!

3. You never know when your Dementia Friends resources could come in handy on holiday.  Connecting with someone who wants to learn more about dementia can happen anywhere in the world. Take a few resources with you - they don't take up much space and will go a long way in educating others.