Champion Nicola Fishman shares her experience...

During nearly two years as a Dementia Friends Champion, I would say that the most exciting and challenging event to date was my last session - held with a group of adults who have learning difficulties. To date I have delivered over 40 Information Sessions to a variety of groups including medical professionals, faith groups, schoolchildren, retailers, theatre and cinema staff. Each session has also taught me something new, which I find one of the most rewarding and loveliest aspects of being a Dementia Friends Champion.

The group I was asked to deliver an awareness session meets once a week in the community building where I work. The organiser had seen me with the weekly pop-up memory café. They had also seen my Dementia Friend posters to advertise my monthly public Sessions and emailed me to ask if I could attend one of the group's evening Sessions and give a Dementia Friends session. Again you never know who might see your posters and what opportunities they may lead to.

The group was clearly identified as an adult group with learning difficulties so, with the help of my DFO, I found the specialised resources on my Champions Dashboard and familiarised myself with them. I then printed out and laminated many of the resources so that they could be re-used and were also 'stiffer' and therefore easier to handle than a floppy piece of paper.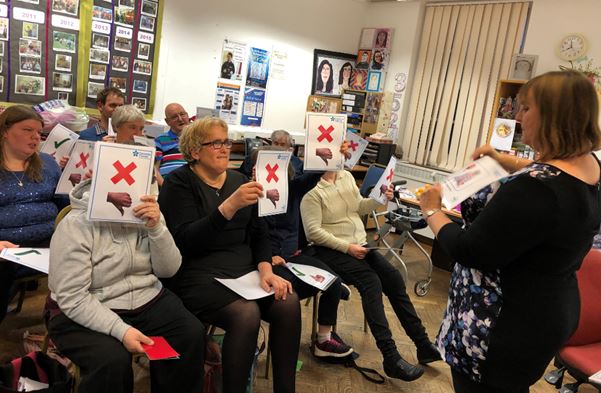 Three top tips from my experience

Don't be afraid to ask for help and to say you need guidance.

Do your preparation, read and re-read the resources that are available. Ask the group leader for any tips. In this instance, I asked to meet with the group leader beforehand so I could get an idea of the group and also how their meeting was usually structured. The group leader also sent me some guidelines that they send to visitors and explained their use of green and red cards to answer questions.

Relax, use your instinct, common sense and be flexible! For example I had no intention of delivering the bookcase analogy (as it's not in the resources for this group!) However, one of the participants asked me why someone with dementia could remember their school days but not what they had for breakfast that morning. I hesitated and thought how do I answer this? Then went for the analogy! I tried to simplify it as I went along and in fact it was this part of the session which was really well received. 

Also, in my head beforehand I thought I would 'manage' questions in a structured way where sometimes when appropriate I might say bear with me as we will be answering that question shortly. With this group it just felt right that if someone was brave and interested enough to ask me a question, I would answer it there and then. Especially as the group used red and green cards system. This group was one of the most enthusiastic groups I've encountered and asked really great questions.

It was a thoroughly enjoyable evening, where I learned as much as the participants – and was ended by cupcakes which were decorated with Forget-Me-Not flowers. I was also presented with two beautifully crocheted cacti, which again were adorned with Forget-Me-Not flowers.