Five-year-old Jennifer became a Dementia Friend along with her Mum, Dena. Jennifer's Grandad had dementia and though it was very challenging, Jennifer loved to spend time with him. Dena tells us their story: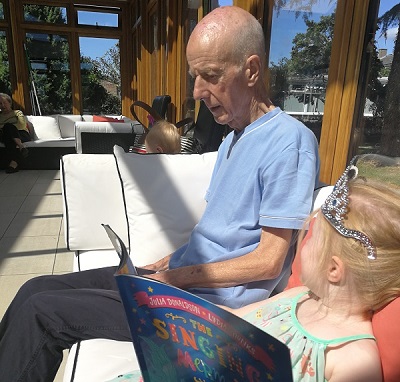 'My dad, Ken, was a quiet and mild-mannered man who was happiest in the company of his close family and friends. He was a big fan of the railways. He was hardworking and worked as a bus driver until his retirement. He was a lovely dad (despite the dad jokes!) to me and my older sister and a proud Granddad to Jennifer (five years old) and my youngest, Samuel, now 2.
Vascular dementia caused dad to struggle with logic and problem solving and this affected his confidence. He had to give up his driving licence which was very upsetting for him. It then also affected his speech and by the end he could hardly communicate at all. This must have been so frustrating for him and also for the rest of us trying to help him.
My mum was his carer and it was hard also seeing the effect on her. I would try to give mum a break and take dad out with the children when we could. To Jennifer and Samuel, however, Granddad was always just Granddad. Samuel would smile whenever he saw him. When dad would often fall asleep on the sofa, Jennifer would give him her bunny that she slept with.
Dad's behaviour changed a lot in the later stages and mum made the difficult decision to find a care home for him. Jennifer had just turned four when dad moved into a care home and that's when I explained to her that dad had dementia. We read the book Lovely Old Lion and she picked up straight away that her Granddad was like King Lion in the story.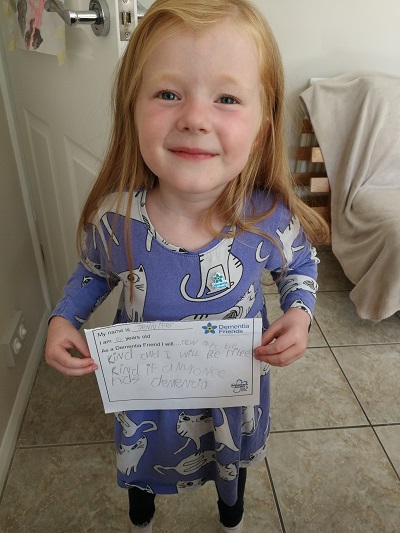 I signed up to be a Dementia Friend about six months or so after dad passed away. I told Jennifer that I had a become a Dementia Friend and that it was about trying to make the world a better and easier place for people like Granddad. She was keen to become one too so we watched the Memories with Grandma film together. She already understood what dementia is so we talked about the sort of things we can do to help someone with dementia. Jennifer says as a Dementia Friend she will 'always be kind and I will be really kind if anyone has dementia'.
As well as becoming a Dementia Friend, I have held cupcake days and I did the Take On 12 challenge last year to raise money for Alzheimer's Society.
We also took part in the Maidstone Memory Walk this year, which marked one year since we lost dad. As a whole family, (the four of us, my mum and also my sister and her partner) we raised nearly £400.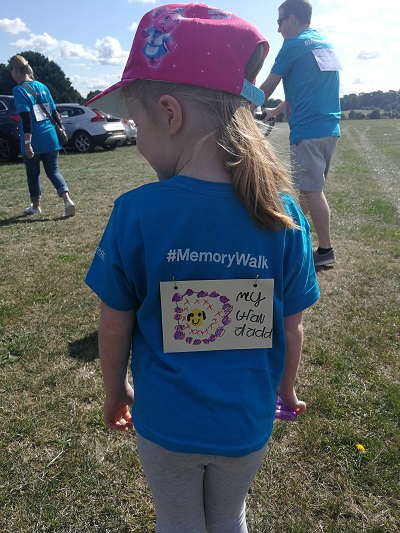 I think a lot of people can feel awkward around people with dementia and struggle to talk about it. That's why it has to be something that we talk about openly and address as a whole society. That way people are affected can feel more comfortable living their everyday lives and accepting the help and support that is available.'
Dementia Friends is open to anyone of any age to join. A Dementia Friend learns about how dementia affects a person and uses that understanding to make a real difference for people affected by dementia. To find out more and get involved, visit www.dementiafriends.org.uk