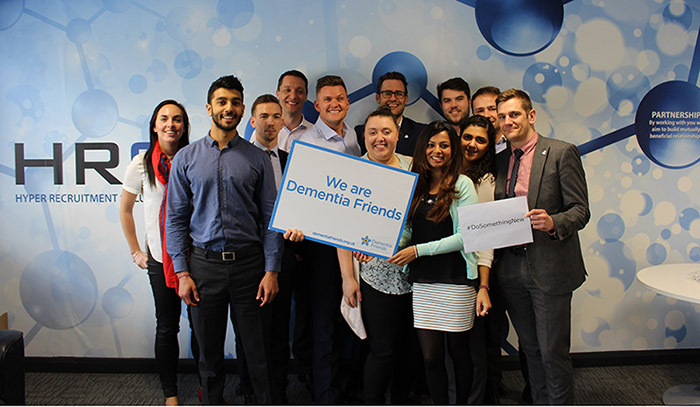 Star of TV show The Apprentice, Ricky Martin and his colleagues took a key step towards helping end the stigma surrounding dementia last week by becoming Dementia Friends.
 
The winner of the 2012 series of the popular BBC reality TV series and his team of scientific consultants at Loughton-based Hyper Recruitment Solutions (HRS) – which was set up with investment from Lord Alan Sugar – took part in Dementia Friends Sessions throughout Dementia Awareness Week (Sunday 17th – Saturday 23rd May).
 
Dementia Friends is a trailblazing initiative, run by Alzheimer's Society, that aims to help people understand what it might be like to live with dementia and turn that understanding into action. Alzheimer's Society has already passed its target of creating one million Dementia Friends and is now looking to create four million by 2020.
 
The HRS team became Dementia Friends thanks to sessions run throughout the week by  volunteer Dementia Friends Champions and HRS marketing and communications officer Sandy Chander.
 
Ricky Martin, who is Managing Director of HRS, said:
 
'Dementia is an issue that is very close to my heart and I truly believe it is vital that we do everything we can to get people talking about a condition that affects so many people across the UK. That's why I wanted to support Alzheimer's Society and do something new this Dementia Awareness Week.
 
'Taking part in the Dementia Friends Session along with my team at Hyper Recruitment Solutions was a really eye opening experience and gave me a better insight of what it might be like for someone living with dementia. I would really encourage anyone and everyone to look into becoming a Dementia Friend too.'
 
Tina Kierman, Alzheimer's Society Operations Manager for Essex, said:
'Less than half of us think we know enough about dementia. Dementia Friends isn't about creating experts, it's about helping people understand a little bit more about what it's like to live with the condition and then turn that understanding into action - anyone of any age can be a Dementia Friend.'
 
If you are interested in becoming a Dementia Friend then type in your postcode and search for a Session near to you or find out more about what a volunteer Dementia Friends Champion does.