Teresa was diagnosed with early onset Alzheimer's when she was 59. She lives on her own and led a busy and active life, until the pandemic hit. Coronavirus has changed everything for her and is making daily life harder, as she feels more isolated and cut off.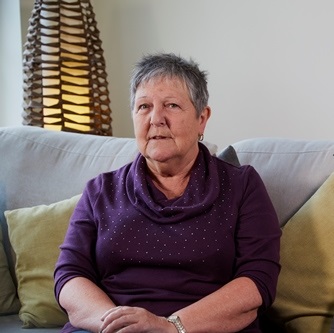 Finding it hard
"I miss my family and I really miss going out, I was always busy before. Before the lockdown I had a such a full life. I do talks at conference to raise awareness about dementia so I'm always busy planning how I'm going to get somewhere, what I need to bring and getting ready to travel. I have a diary to keep track of all the things I need to do!
But now, I have no sense of what day it is, or the time. I don't have a routine or structure and I'm finding it hard to cope because of that. I used to get up at around 6am everyday but it's a struggle now to motivate myself to get out of bed in the mornings. 
Since the lockdown I find I'm losing my words more, writing the wrong words and doing more things wrong than I used to. The other days I put a pair of socks on my hands instead of my feet and I put the yogurt back in the knife drawer instead of the fridge." 
Teresa finds that social interaction helps keep her brain active and it's lonely not being able to stay connected with people. She really misses seeing her family. 
"We do facetime but it's not the same. The other day my daughter and granddaughter came over to see me for a chat from a safe distance, but we all got upset because we just wanted to hug each other. 
All this has really knocked my confidence. My biggest worries are that I'll lose my confidence altogether and not be able to get back to the things I've always done. I'm worried about my dementia symptoms getting worse too. 
You know I felt really isolated when I was first diagnosed with dementia, but I learned ways to cope by getting out and doing things, like my talks. But now that's all gone, it's like I'm back to that time when I was first diagnosed again. My mood gets low and there's nothing to help get me out of that now because all of the things I enjoy and that used to help are gone." 
Teresa is trying to keep active indoors and is doing things like knitting. She was doing lots of zoom calls in the beginning but there were so many she'd forget to eat and drink in between. 
"Now I just have my Zoomettes call – a group of us living with dementia who get together once a week – we laugh, we cry, we support each other through this. 
Little things help
"There are a few things that have kept me going. I sit at my door and have a coffee with some of my neighbours who sit at their doors too. The other day another neighbour popped round with some Eclairs and a bottle of wine and one of the young girls pops by sometimes to see if I need anything from the shop."
It's those things that mean the most to Teresa - someone popping over for a chat at a safe distance or offering to help with shopping - just that little bit of understanding about what someone with dementia is experiencing and doing small things to help them stay connected. It's needed now more than ever.
Sign up to find out more about how dementia affects a person and ways you can help people living with the condition in your community. Become a Dementia Friend