Like so many of us, Miles Horner's job was massively impacted by the coronavirus crisis. Miles is a professional opera singer and has been performing internationally for 15 years. When coronavirus hit many of Miles' shows were cancelled and, as he puts it, his 'working life came to an unexpected and abrupt halt'.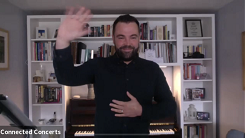 And yet, after being inspired by all the amazing ways that individuals and organisations have been using their skills to respond to the crisis, Miles started to think about what he could offer to help during these uncertain times. Miles has elderly relatives who are isolated right now, plus he has experience of performing in care homes, and so the idea of 'Connected Concerts' was born!
'Connected Concerts are live, interactive performances for those living in care settings. I use Zoom to call in to a care home and perform for the residents, with the aim of simply trying to make someone's day that little bit more enjoyable while we all find ourselves separated from loved ones.'
Miles' performances have been bringing entertainment to care home residents at a time when they can't be visited by family and friends and can't make trips out. And Miles says that performing live for the residents makes a real difference compared to doing a pre-recorded show.
'The difference between Connected Concerts and watching pre-recorded concerts is I can interact with those watching and can tailor the performances to suit them, including taking song requests and encouraging people to join in! I can sing a variety of different styles of music including opera, jazz, swing, classical, songs from the shows and some of the greats like the Beatles and Frank Sinatra.'
Miles recently became a Dementia Friend after hearing about it from his family. He wanted to learn as much as he could about dementia whilst starting his new venture.
'Music has the power to take us back to those important moments in our lives and having become a Dementia Friend I realise how making someone feel happy can have a significant impact on how they feel for the rest of the day. Knowing that solidified that this is the right thing to do while we all find ourselves in these strange and difficult times.'
You can find out more about Connected Concerts and get in touch with Miles on Twitter @connectedconce1 and via email: connectedconcertsuk@gmail.com