Dementia Friend Emily joined our movement in 2013 while supporting her late grandad on his dementia journey. Here, she tells us how becoming a Dementia Friend helped reassure her she was providing the right support, and how it allows her to relate to those she helps through her own care support business.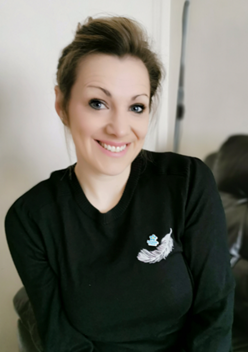 "I have worked within the caring industry from the age of 16, working my way up from a care apprentice to managing a 35 bedded care home. Having both my grandads living with dementia - in September 2020 I took the leap of faith in starting my own care support business.
I wanted to become a Dementia Friend so that people could relate to me with their own personal experience, show that I have understanding and empathy and use this knowledge to help support with those living with dementia."
Emily became a Dementia Friend by watching our online video and says the video was both 'empowering and informative'. 
"For me, by being a Dementia Friend it reassures me that I am providing helpful support for those I care for, and for those living with dementia in the community. It's so important to promote awareness of dementia."
Emily has cared for both of her grandads over the years and cared for her grandad Ken until his final hour in June 2016. Through her support, kindness and empathy Emily says they both were able to live life to the full and 'enjoy time in their new world'.
"In 2020 I took the courage to start my own care support business in memory of my grandads – White Feather Care. I'm sure you have seen a white feather or two...well my Grandad Ken is mine, and that's why my business is dedicated to him. For those I care for, I am their friend, someone for them to talk to and someone give them a purpose whilst their loved ones have a rest."
What would Emily say to someone considering becoming a Dementia Friend? "Sign up! Show people you care, and support those living with dementia."
Thank you, Emily, for sharing your inspiring story. 
Become a Dementia Friend today.