Hear from Shamayne about the importance of spreading awareness and being there for everyone affected by dementia. 
I became a Dementia Friend at the start of 2020.
My father was diagnosed with vascular dementia about 10 years ago. As any child who has a parent with dementia will tell you, the journey has been both harrowing and joyous.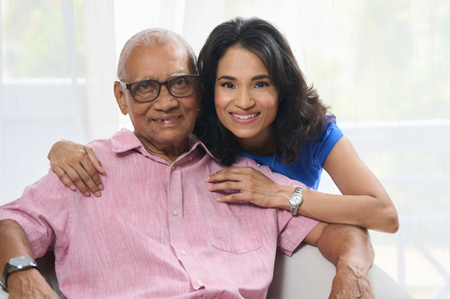 Shamayne and her dad
I desperately wanted to become a Dementia Friend because I realised that there was so much people didn't know about dementia, often mistaking Alzheimer's and dementia as two separate things and presuming dementia only affects 'old people'. 
My close friends were either in denial or just simply didn't know enough when I explained about my dad's condition. I often felt my frustrations were brushed away.
This inspired me to make it my mission to share what having dementia and living with dementia really means. I aim to create awareness about dementia on my social media platforms and help families who are going through this experience by sharing knowledge and combatting misconceptions. 
Dementia is a cruel disease, and to watch a loved one go through this is painful to say the least.
What's worse is that as a carer, the future almost always looks bleak.
If more people became Dementia Friends and knew more about dementia, and the challenges that families have to go through, this could change everything - from perceptions to policies.
I hope as a Dementia Friend I am able to play a small part in this.
Join Shamayne and over 3 million others to become a Dementia Friend. Click here to watch our video or to sign up for a virtual Session.