Hear from Ying To, Branch Manager at TSB Bank, and Dementia Friends Champion, about how learning about dementia equipped branch staff with a better understanding of the things they could do to help customers who might need extra support. 
Ying says attending a Dementia Friends Session at the branch four years ago changed his perspective about dementia, and the challenges those living with the condition might face when out and about.
"I realised that the way we were treating customers with dementia wasn't quite right, so I signed the branch up to become more dementia-friendly.
Two years ago, alongside my Cluster Manager Jade, we decided to become Dementia Friends Champions so that we could deliver the Dementia Friends Information Session to managers around the wider area and raise awareness, and TSB supported us to do this. 
Between us we have made over 100 Dementia Friends - we wanted to ensure that there was representation of Dementia Friends in each of our branches within our region, and we have more Sessions planned!"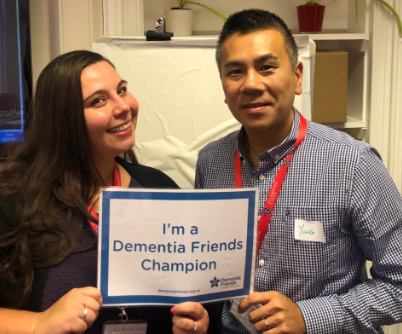 Ying says, having met customers at many different stages of dementia over the years, being a Dementia Friends Champion really helped him to understand their needs.
"One elderly customer came in confused thinking that the care home where he was living was confiscating his money. He wanted to take out what he had left. I took him to a quieter room, listened and put him at ease. He was reassured and left his money safe in his account. Later I contacted the care home to check he was alright."
As well as staff having the knowledge they need to best support customers living with dementia, the branch has adapted to better suit their needs:
"Now we have a quiet place for customers if they need it, and all partners wear a badge to show support."
A fantastic example of how raising awareness and spreading the word can help make the world a more accessible and inclusive place for those living with dementia!