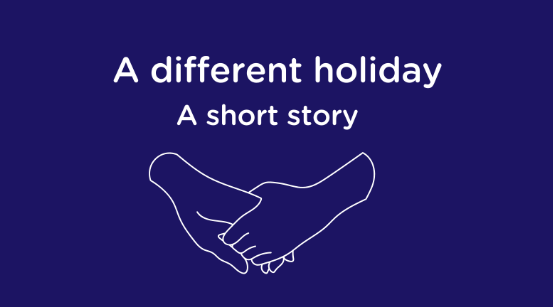 It takes quite a while for 56 people to get off a coach, stretching their stiff necks and rubbing painful hips. Some of them standing around while there is the gathering of hand luggage and handbags, walking sticks and even a wheelchair. Sheila paused for a moment on the doorstep of the hotel looking back at the view. A Scottish loch shining in the evening sun, rolling hills sweeping down to the water. 
"Well we won't be doing much walking here I can tell you! she thought to herself."
The courier led the way into a spacious ,restful looking lobby, lots of leather armchairs and tartan carpets.
"This way folks ,don't worry about collecting your main luggage ,this will be delivered to your room within 10 minutes or so"
The smiling young man who came forward from the desk to greet them said "Good evening ladies and gentlemen, welcome to Golden View Hotel. Your room keys are ready for you. The lifts are just to the right please don't hesitate to ask if you need any help. As you see I have a line of willing hands " indicating half a dozen staff standing to one side. One pretty girl stepped forward and pressed the button to the lift and held the door open while the lady with a wheelchair was pushed over the threshold by her husband.
The girl looked very trim in her uniform, a white blouse, short skirt and a pretty scarf at her neck and so slim! Sheila took in a deep breath, But then so was I at that age but I'm not sure that my skirt was ever that short!.
"Your room is number 35 that's on the third floor madam at the front of hotel. You'll have a lovely view from there."
She smiled her thanks and took the key and turned to look for Roger who was hovering by a rack displaying three or four daily newspapers.
Well no change there she thought, I'll have a good book and he'll make the Telegraph last all day.
They stepped out of the lift into a corridor of identical doors but number 35 was straight ahead so easy to find if Roger took himself off and not much walking when they do go out.
Roger opened the door on to a burst of golden sun. The room was looking directly west and out there was the loch. "Look Roger a balcony, that's a bonus, we can have a nice week here without a doubt".
She liked the idea of a rest but was just as anxious for some company. Being shielded to keep safe had been pretty difficult at times with Roger's twice weekly carer being their only visitor. But they had got through it and had at last been able to leave the house because the vaccination campaign had been so successful.
Roger turned as she took his coat and put it in the wardrobe. " Did you know it was a double bed? We never have a double bed these days".
"Well we dithered so long making up our minds whether or not to book that's what happens. Last two seats at the back of the coach and the only room available.
But look at the view I reckon we've done well I wouldn't mind just sitting here on the balcony with a gin and tonic twice a day for a week "Ok so long as they have a decent craft ale for me" he replied.
They were both pretty tired, it had been a long day travelling and even though they had morning and afternoon stops and a lunch stop it was still tiring somehow.
 This was a different holiday, their very first coach trip. Their daughter had persuaded them to give it a try. She'd been anxious for them to get away and she was going to have the builders in and change the bathroom for a walk- in - shower while they were away.
"A holiday will do you both the world of good Mum and the shower will be easier for helping Dad. You wait-and-see I'm sure you will be pleased with it when it's done".
Typical Penny, practical to the core but showing a new tendency to be bossy Sheila had thought at the time.
They went down for dinner promptly because she certainly didn't feel like fishing out a change of clothes but she was pleased with how her new blue blouse looked when she took her jacket off. Lovely floaty material with a frill down the front , even Roger had noticed it when she put it on this morning and he so rarely noticed what she wore now. But then she could hardly blame him she had been living in the same couple of teeshirts and jogging bottoms for weeks. She decided to leave her jacket on the bed and just carry her little evening bag for her phone and the door key.
The dining room looked out over the garden and they found themselves seated with another couple who seemed nice enough , Sheila had seen them at the front of the coach and wondered if the man had a touch of dementia too as his wife seemed very attentive. Is this how it would be from now? recognising soldiers who were in the same battle all the time? Their visits to the memory clinic had been like that, identifying which of a couple was the patient and which the carer?
The menu was definitely better than she had expected. Not à la carte of course, but three choices of starter and mains and then it said "Make your selection from our desert trolley". that could be something to look forward to.
The main thing was she hadn't had to cook any of it.
They both decided on the fish for the main course and Sheila ordered a bottle of Sauvignon Blanc, her favourite, so she was going to enjoy this meal whatever the cost. 
After dinner she made coffee in their room and took it out on to the balcony so they could watch the sun go down. 
There was the distant sound of the three-piece band that was apparently performing in the main lounge that evening.
They both felt the day had been long enough so they were in bed by ten!
Roger turned towards her and took her in his arms ,cradling her face against his neck. "I'm glad we're doing this he said"
"What do you mean? Visiting Scotland or sharing a double bed?" 
"Both" he said emphatically as he snuggled down.
He lifted her nightie and began to stroke her tummy. Gently at first but then with obvious increasing interest.
She turned to look at him and found herself remembering Italy and warm scented nights and such excitement as youth could produce in a moment:. And then just as suddenly found herself thinking of Hydra, the little island off Greece , the first year that the children were truly grown up and offhand. A holiday that was planned just for the two of them.
Another room with a balcony and music from the Taverna floating in the window. More hot nights , lots of red wine! Those were the days.
But what is this? not just stroking but increasingly urgent, seeking, lifting, feeling, moving, building, thrusting, holding ! NO don't stop!
Suddenly an explosion of stars ! An orchestra in her head! Music in crescendo. In Finale! Where did that come from ? WOW! I am sure Shirley Valentine lives ! 
No better than that, I am Shirley Valentine!
The end.