We love this story of Lyn who is living with dementia and determined to keep doing the things she loves. Here, we hear from Lyn's daughter Sarah about Lyn's life, and how she's found a way to help others support her with her communication.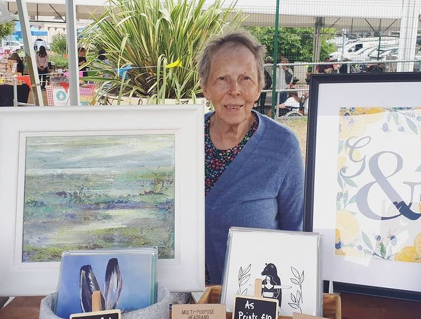 Lyn at an art fair
Lyn is from Northern Ireland, she was an Educational Psychologist and has been an artist throughout her life. She loves attending art fairs, but this could sometimes be tricky while living with the symptoms of Primary Progressive Aphasia (PPA, a rare form of dementia) that can make communicating difficult.
Lyn's daughter Sarah says, "Although a lot of people are great at being supportive communication partners, some other people just don't have the experience of talking to someone with a communication difficulty. Mum was keen to help them by letting them know what helps her best, as she loves talking."
Lyn came up with a handy solution to help make communicating easier, and created a sign explaining that she has PPA, and although it can make communicating more challenging at times, she still loves to chat and meet new people.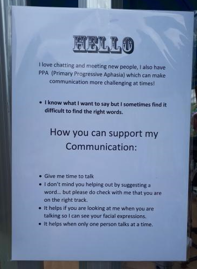 Lyn's tips for supporting her with communication:
Give me time to talk
I don't mind you helping out by suggesting a word, but please do check with me that you are on the right track.
It helps when you are looking at me when you are talking so I can see your facial expressions.
It helps when only one person talks at a time.
Sarah says: "Not every person reads the sign and even if they do there are sometimes communication breakdowns, but mum's passion for her art always shines through. 
She is doing her darnedest to live well with dementia and continue to do what she loves, recently she's even been cold water swimming with my sister!"
We're so inspired by Lyn's positive outlook, showing that supporting one another with our individual needs can go a long way to helping someone continue to do the things they love.
Huge thanks to Lyn and Sarah for sharing their story.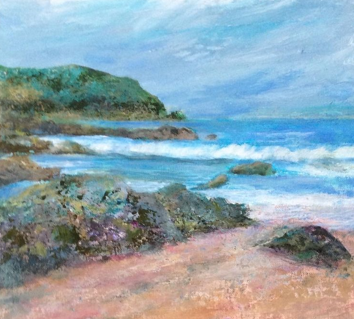 Some of Lyn's beautiful art - see more at lynmajury.co.uk