"Understanding that each person living with dementia will have a different experience encouraged us to run a group that would meet each individual's needs."
We spoke to Hannah, Project Leader at Community Centre Lyppard Hub, about how joining the Dementia Friends initiative has helped staff shape the activities offered and enabled them to provide the best possible support.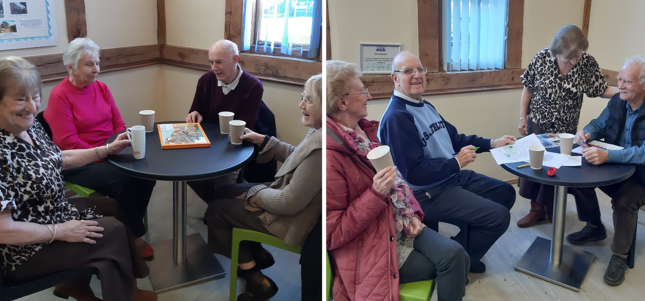 Hannah said: "Part of my role is to run some of our community projects for adults, including our successful group 'Tea & Support'. This is our dementia support group providing a space for people with dementia and their carers to meet others in similar situations whilst sharing experiences and building friendships. We have board games and table tennis each week, and run one off sessions such as quiz mornings, crafts, bingo or sharing lunch together."
So, how has joining Dementia Friends helped staff develop the activities offered?
"Understanding that each person living with dementia will have a different experience encouraged us to run a group that would meet each individual's needs, rather than trying a 'one size fits all' approach. 
"We offer quiet activities such as colouring for those who prefer to sit with a coffee, and activities such as table tennis for those who prefer something more physical. We also seek to get to know each person individually so we can chat to them about their interests, hobbies and working life, and help to connect people."
Hannah says the Dementia Friends Session also emphasised that even if someone living with dementia doesn't remember a specific activity, they may be able to remember the emotions associated with it.
She added: "We make sure we do all we can to create a fun, happy environment with lots of laughter."
Lyppard Hub also ensures they are providing support for carers, recognising the impact dementia can have on those around the person who is living with the condition.
Hannah said: "Our understanding of dementia through the Dementia Friends Sessions has also enabled us to support the carers who attend our group with recognition of the difficulties they are going through caring for their loved one. We want to help people live well with dementia, but we also recognise that for the carers and family members it can be really tough. We seek to listen and provide a place where people understand and are there to support and encourage."
Following their initial Dementia Friends Session, the centre held further Sessions for carers from the dementia support group, volunteers, and others in the community with an interest in supporting people living with dementia.
Hannah said: "For the carers, these Sessions were sometimes personal as they related to carers' day-to-day experiences, but doing the Session together enabled us to support each other. It was great to see people from the wider community attend and to know that we are helping people in our local area become more aware of dementia and how best to provide support.
"Our volunteers are fantastic and bring laughter and fun, as well as a listening ear. We feel very fortunate to be able to run this special group and for the lovely people it has brought us into contact with."
Become a Dementia Friend and learn what you can do to support people affected by dementia. Sign up now.