Dementia Friend and store owner Trudy Davies is committed to doing good in her local community, and beyond. A keen supporter of many charities, Trudy is passionate about supporting good causes. Here, she tells us how becoming a Dementia Friend helped her recognise how she could offer more support to customers in her shop.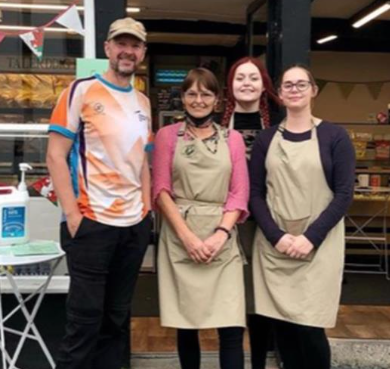 Trudy and her team support many different charities and are proud Dementia Friends.
"My late Nan had dementia and I was unaware of some of the associated symptoms of the condition before becoming a Dementia Friend. Through attending an in-person Information Session, I learned to understand the confusion people with dementia might experience and the changes in mood that can occur with dementia. I also learnt about the impact on spatial awareness, which is useful to know when supporting customers in the shop."
Trudy, from Llanidloes, recently took the title of Community Champion at the Fed (Federation of Independent Retailers) Awards. She said "The pandemic meant we had to re-evaluate how we conduct our business in many ways. Our main objectives were keeping the community and staff safe, ensuring the business is constantly adapting to the changes in retail and helping the high street and community thrive and succeed in these difficult times."
Through introducing free deliveries for newspapers and goods to those who might struggle with shopping, hosting a jigsaw swap and offering free bread to anyone in need, Trudy and her staff were, and still are, able to provide vital support to those in their community.
So, does being part of the Dementia Friends movement help retailers in supporting customers with dementia?
"I would 100% recommend becoming a Dementia Friend! It's an asset to your skill set as a person and business. We support Alzheimer's Society by fundraising, using collection boxes in our shop through various times of the year and collecting old jewellery for the Alzheimer's Society recycling scheme.
"I want all the staff at my store to become Dementia Friends so everyone can feel welcome and safe in our store."
Feeling inspired? Join Trudy and become a Dementia Friend here.