We hear from John, who is living with dementia and determined to keep busy, staying active in his community and providing support to others.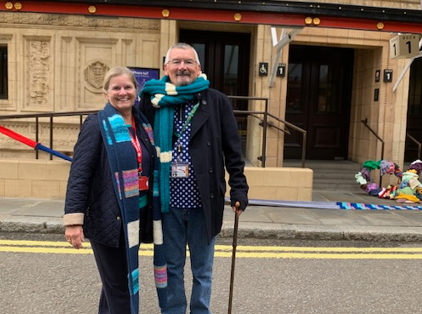 John (right) at an event for the Lewy Body Society earlier this year
"I was diagnosed with Lewy Body Dementia with Parkinsonism in May 2019. My dementia is in the early stage and through my journey I have realised I am able to support others by discussing my experience.
"Before my diagnosis I didn't have much awareness of dementia. I was a senior engineer and trainer, I really enjoyed my job. I was dedicated to my work and definitely had no intention of retiring at 66."
My dementia journey
"My journey to diagnosis started when I had been on holiday and fell ill when boarding the plane home. I was put in touch with a clinic and ended up in hospital with viral Gastroenteritis. After flying home, I ended up going down with Urinary Sepsis and was hospitalised again. My wife felt things weren't quite right. When I was discharged, I was unwell for months and needed physio and other support. In one of the sessions, it was suggested I see a neurologist due to some symptoms they noticed. At the time I was suffering from several symptoms, some unrelated to dementia. I was also diagnosed with Guillain Barre syndrome. My GP referred me to a consultant neurologist who ran several tests and eventually confirmed my diagnosis of Lewy Body Dementia. Before this, there had been no mention of dementia, so the diagnosis was a shock.
"Fortunately, my consultant had an Alzheimer's nurse working with him and she enabled me to get immediate support for myself and my wife, who is my carer. Over a cup of tea and biscuit, we went though all the information, and we discussed support groups for myself and my wife to join. I found this experience positive as I felt understood and supported.
"It took me approximately two years to accept my diagnosis. Finally realising I wasn't going to return to employment. It was difficult but I endeavoured to concentrate on helping and supporting others with dementia."
Discovering Dementia Friends and supporting others
"I was inspired to become Dementia Friend by Ambassador Lorraine, in early 2019. I watched the Dementia Friends video and I learnt about the lack of awareness from people in general, the impact dementia can have on those living with the condition, as well as carers and family. I think Dementia Friends can really help make people more aware of dementia, and that it's nothing to be afraid of. People change for many reasons. I'm still me. I love you just as much, although I might get your name wrong.
"I have found that there is not much awareness about Lewy Body Dementia. Less people know about it, and I did find it difficult to get tailored support. I am in touch with the Lewy Body Society and they're very helpful. It was as I learnt more about different types of dementia and how this can affect people, that I realised an action I could take was to make myself available to support others, to share experiences and be someone to talk to.
"I enjoy helping people find what support is available to them and just having a chat about nothing in particular - it makes their day, and mine too! I have helped set up a dementia café in a local shopping centre, a café kindly gives us space once a month where we can meet, chat, and support each other. The shopping centre placed posters up, and the group started to grow. I was really surprised at how many people didn't know what kind of support is out there - from peer groups to dementia friendly activities."
Keeping active and the benefits of nature
"I like to keep active as much as possible, but every day with dementia is different. Some days I do get very tired, but others I am able to achieve a lot. I have built a bench and a bridge for our garden. My neighbour has recently been diagnosed with young onset dementia and we've worked together on fixing up his van with a new engine!
"I also attend a gardening group with a few peers, we plant and maintain a dementia sensory garden using a grant from the council and a garden centre, which enabled us to buy tools and plants. The garden is really enjoyable and being outside is really beneficial."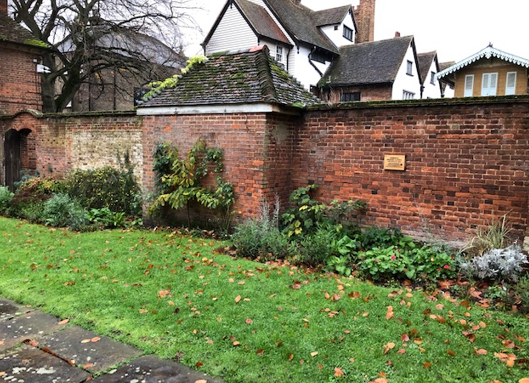 The lovely dementia sensory garden
Everyday life with dementia
"Living with dementia can make everyday things more difficult. Noise, and confined spaces can affect me. Symptoms like fatigue, brain fuzz, forgetfulness, spatial awareness, restless legs, and change in body temperature can be difficult to manage. Travelling can be overwhelming but I am determined to stay as independent as possible.
"It can really help when dementia friendly initiatives help the general public to be more aware of what someone may be going through, and how they can support them. I have found that since wearing a Sunflower lanyard, assistance is more readily available. I might walk into a supermarket and stare at something on the shelf but I'm unable to recognise that it's the item I need. I sometimes struggle to see words in full too. At museums I might be reading a display and the words look like they're missing. It's times like these that understanding from staff and people around me is so important.
"When I got into shops, I do try to make people aware that I have dementia, to raise awareness but also so they know I may need some support. Sometimes I can speak to a manager, and they're willing to listen and learn more about how they can help. It's nice to see more accessible spaces, like shops and cafés, this helps people with dementia but also people with other disabilities feel more welcome and understood.
"Other things I have found helpful are local bus drivers being patient with me and my local sports centre providing placards that I can hang on my locker to help me identify it. The more initiatives like this we have, the more people living with dementia will be able to get out and about in their communities.
"I always say: there is never enough people out there spreading the word!"