Dementia Friends Champion of the Year 2018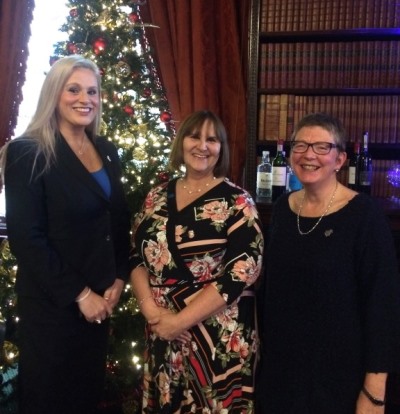 From dozens of brilliant nominations, three incredible finalists for the Champion of the Year 2018 award were chosen. And at the Dementia Friendly Awards ceremony in London on 22 November, the winner was announced!
Every one of the finalists would have been a worthy winner as they have all been going above and beyond in their role as a Champion. Let's learn more about the three of them and hear how it felt to be nominated for the award.
---
Winner: Sarah Williams-Martin
Sarah Williams-Martin is steadfast in her commitment to make real change for people affected by dementia, as demonstrated by the incredible work she has undertaken over the past year. Sarah's passion, drive and inclusive approach to everything she does makes her our Dementia Friends Champion of the Year 2018!
Of course Sarah's achievements start with making hundreds of Dementia Friends through the Sessions she runs for all sorts of different groups including lawyers, churches, MPs, Museums, Care Services, young people and people with learning disabilities.
Sarah is the creator and chair of the Bath & NE Somerset DAA and has created the Banes DAA business ambassador program to help make organisations dementia-friendly.
Sarah is committed to growing the movement. She is a mentor to other Champions, she helps deliver events such as dementia-friendly carol concerts, she runs a Facebook Group that offers support to almost 1,000 carers across the UK and she showcases all this incredible work in the media. There is simply too much work to mention here!
Here's what Sarah had to say:
'I was so honoured to have been nominated for this award. I am totally shocked and overwhelmed that I have won, especially in light of the fantastic finalists who I think are also winners.
'Dementia Friends Champions can make such a difference to the lives of the people living with dementia and their carers and it is wonderful that the Alzheimer's Society recognises this.'
'I am hoping that the work I have started will be a catalyst for change and that Bath and North East Somerset will be a dementia-friendly county for future generations.'
---
Runner-up: Nicola Fishman
Nicola Fishman bring energy, enthusiasm and expertise to the Dementia Friends Champions role and is deservedly one of our three finalists for the award.
As a Champion, Nikki reached so many different people and particular mention should be made of inspiring inter-generational work. Having delivered a Session to a group of sixteen years old, Nikki then connected these young Dementia Friends to a local day center where they could volunteer. A lovely example of encouraging people to turn their understanding into action!
Beyond that, Nikki is also co-chair for the Bromley Dementia Action Alliance, mentors other Champions, is a valued member of the Champions Forum, has set up memory cafes and delivered a huge array of activites for Dementia Action Week 2018 - wow!
Here's what Nicola had to say about being nominated for the award:
'I was shocked initially, as I never expected such recognition for something I love doing so much. Eventually, though, that was replaced by delight. At the same time, I felt very aware that nothing could have been achieved without the magnificent response from my local community in Bromley.'
---
Runner-up: Cheryl Williams
Cheryl Williams does not miss an opportunity to deliver a Dementia Friends Session! Showing incredible commitment to making Wales more dementia-friendly, Cheryl delivers Sessions in both English and Welsh to all sorts of different communities.
Cheryl has been particularly influential in reaching the more rural communities in Mid and North Wales. Some of the amazing Sessions Cheryl has run this year include attending a three day event in Harlech Castle for school children, Sessions for Welsh Young Farmers, Sessions for the cast and crew of a touring theatre company and Sessions that form part of an inter-generational art project.
We asked Cheryl how it felt to be nominated:
'The nomination was an award in itself. So many champions could have been nominated for the difference that they make to people's lives. It is an honour to be part of creating a dementia-friendly UK.' 
---